Most people when taking a holiday in the Caribbean think about relaxing by the pool or sunbathing on a beach, but there is so much more that tourists can do in this area. From diving to kitesurfing, the islands of the Caribbean have it all.
Kitesurfing in the Dominican Republic
The wind conditions in the region making this a great place for activitie
s such as kitesurfing and windsurfing. Head to Cabarete on the north coast of the Dominican Republic. The best time of the year for an adventure holiday here is in February and March or May to August.
Scuba Diving in Bonaire
Diving enthusiasts from all over the world come to Bonaire to explore the waters around the island. Diving equipment can be hired on the island and beginners can take classes. The bright corals and fascinating underwater landscape will delight anyone who wants to escape from the world above for a while.
Sailing Holidays in the British Virgin Islands
The waters around these islands are protected and the short trips between the various islands make this area a good choice for sailing. There is a sailing school located in Tortola where novices can pick up a few tips. Charters and flotilla holidays are on offer and this is the ideal way to explore the area at your leisure.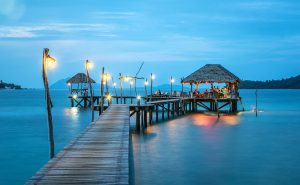 Exploring Haiti
Parts of Haiti are still recovering from the earthquake that occurred in 2010 but this still remains an extraordinary country. Visitors love to see the beautiful buildings and get closer to this unique culture. Visits to Port-au-Prince and Jacmel should be part of the trip in order to give a clear picture of life on this fascinating island. Opt for a trip that includes a guide.
Paddleboarding in Tobago
Try a phosphorescent lagoon for paddleboarding for a truly spooky experience. The water is inky black and the action of paddleboarding will leave a trail of eerie green light. Some people even jump in to swim through the glowing waters. There are instructors that can given lessons in paddleboarding and this can be part of a package deal for a holiday to remember.
Hiking in St Eustatius

This is a Dutch island that is very quiet and very beautiful. The only way to get there is to take a flight from St Maarten. One of the main reasons that visitors come here is to enjoy the tranquillity that they can get from hiking and diving. There are plenty of wrecks in the waters around the islands that have become popular dive sites. Quill is a dormant volcano on the island and the hike up it – almost 2000 feet – can take around two hours. The coastline has been designated as a marine park and there is a great deal of conservation work taking place here.