Scuba diving is one of the most popular activities for holiday makers who want to do something more than just lie on a beach. Millions of people have tried it, with many of them taking courses and obtaining certification. Most people try it just because they are fascinated by the world under the sea.
SCUBA stands for Self-Contained Underwater Breathing Apparatu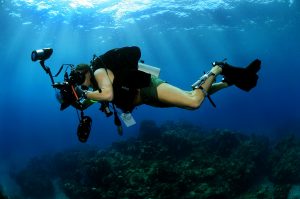 s. The air that is used in the tanks is compressed air and it is the same as the air that we breathe outside. It is part oxygen, part nitrogen and also contains some other gases. While many people believe that it is actually oxygen, it is not because that would be dangerous.
Scuba diving is done with a tank of air on the back and use a variety of other pieces of equipment. The idea is that people can dive to reasonable depths and spend a while under the water.
The gases are also one of the reasons why people need to be very careful when they come back up to the surface as they can lead to conditions such as decompression sickness. It can actually be fatal and this is why it is important to be trained to dive before you start diving.
Even though scuba diving is very enjoyable it should never be done alone. Divers should always have somebody with them. For those who are new to diving or only do it recreationally, the depth of the dive should be no more than 40 metres. Further training is needed for those who want to dive deeper.